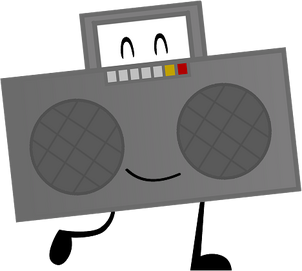 Boom Box, labeled The Annoying Befriender is a female contestant on Mystique Island who was placed on team Blue.
Personality
Boom Box stresses to find new friends. She doesn't know how to interact with other people properly, even though she is nice towards other. The reason behind this is her irrationally annyoing voice. She seems to be more interested being friends with Speaker and Surround because of their interest with music, but gets often rejected by them.
Facts
| | |
| --- | --- |
| Gender | Female |
| Team | Blue |
| Episode eliminated | -- |
| Rank | -- |
| Friends | Blueberry, Lightning, Nacho, Candy Corn, Toadstool |
| Enemies | Girder |
| Color | Grey |
| Voiced by | Ardaba1 |
Coverage
Coming soon!
Trivia
Gallery
Ad blocker interference detected!
Wikia is a free-to-use site that makes money from advertising. We have a modified experience for viewers using ad blockers

Wikia is not accessible if you've made further modifications. Remove the custom ad blocker rule(s) and the page will load as expected.